26 Oct 2010 09:23:54
---
Join the Würzburg Jazz Orchestra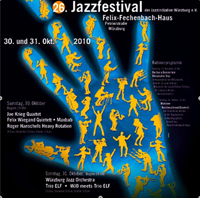 Next weekend, on the 31th of October, i`m gonna play with the
Würzburg Jazz Orchestra
at the Jazzfestival in Würzburg and the day after we`ll play at the Jazzclub Unterfahrt in Munich. It will be a very exciting project, because leader Markus Geiselhart invites the
Trio Elf
to play their music together with the Orchestra. And one set will be dedicated to the music of
The Beatles
, because of the 30th Anniversary of John Lennons murder.
5 Oct 2010 12:55:06
---
Clemens Hofer (tb) - Primus Sitter (git) im Schaustall/ Völkermarkt
Im Rahmen der "Langen Nacht der Museen-Kärnten" am 2. Oktober 2010 spielten Clemens Hofer (tb) und Primus Sitter (git) im Schaustall in Völkermarkt. Die Ateliergalerie des Völkermarkter Malers und Arztes Harald Scheicher verfügt über eine Ausstellungsfläche von ca. 500 m2. Architektonischer Blickfang sind Hängewände, Gangway, und kubische Stellkörper, welche in eindrucksvollen Kontrast zur freiliegenden Zimmermannskonstruktion des riesigen Daches treten. Der Schaustall liegt direkt am Hang über der Drau, das sich bietende Panorama - mit dem Blick über den Völkermarkter Stausee zum Obir - ist eines der schönsten Süd- kärntens.
24 Sep 2010 21:46:29
---
Andy Middleton Octet - live at Jazzland/Vienna
On Wednesday, the 22th of Sept. and Thursday, the 23th of Sept. the Andy Middleton Octet will play in Jazzland/ Vienna. It will be a great time for me, because we will perform great original music, and of course to be in such a great line-up with
Fritz Pauer, Andy Middleton, Thomas Kugi, Heinrich von Kalnein, Robert Jukic, Christian Salfellner, Daniel Nösig and Bastian Stein
. Hope to see you there....;-))
5 Sep 2010 15:34:00
---
Clemens Hofer Trio - NEWS
We`re gonna play two concerts this week; the first will take place in "
Musicpub ZWE
" in vienna on wednesday, 8th of september. the next day, we`ll play in Gmünd/ Kärnten at the "
Alte Burg
". This two gigs will be very exciting, because Wolfgang Kendl will be on drums. I`m really looking forward to it!!!
5 Aug 2010 15:34:08
---
Clemens Hofer Trio at Jazz im Hof in St. Pölten
The Clemens Hofer Trio joins the
Jazz im Hof Festival
in St. Pölten/Lower Austria as a Festivalopener. They gonna play their music from their last year released album "into the light" and some good new stuff. Come and join the Clemens Hofer Trio!!!
Friday, 20th of August
at 19:30 at the Barockgarten im Stadtmuseum St. Pölten