10 Dec 2017 18:17:29
---
.... since October 2017 Clemens Hofer teaches at Jam Music Lab University in Vienna, Austria
10 Mar 2017 12:35:59
---
Konzertankündigung TrioBoot in der Tischlerei in Melk
Posaunist Clemens Hofer und seine kongenialen Kollegen Michiru Ripplinger und Wolfgang Kendl verfolgen einen sehr eigenständigen Jazzsound, einen, der auf mitreißende Art eine große Liebe sowohl für weite Melodiebögen wie auch für alle möglichen freien Formen dieses Stils erkennen lässt. Jeder der drei hochtalentierten Musiker ist ein Meister seines Faches. Absolut empfehlenswert!!!

Posted by Clemens Hofer on Freitag, 10. März 2017
9 Aug 2016 11:27:51
---
Interview im Sonic, Ausgabe Mai/Juni 2016
Danke an Hans-Dieter Gründefeld und SONIC für den gelungenen Artikel in der Mai/ Juni- Ausgabe!
Wer es nicht schon gelesen hat, kann es hier tun:
SONIC
18 Mar 2016 12:57:52
---
MUSIKMAGAZIN – NEUES VOM ÖSTERREICHISCHEN MUSIKGESCHEHEN
Danke Michael Ternai, für die schöne CD- Besprechung zum Album "Comfort Zone" für die MICA - Music Austria!
mica
weitere Album- Rezensionen im Menüpunkt "Disco"
5 Oct 2015 10:22:45
---
TrioBoot bei den Shortcuts im Stockwerk/ Graz
27 Aug 2015 10:30:03
---
NEW album out now ...
Hello my Friends!
After a long working period our new album "COMFORT ZONE" is released on Jive Music!
24 May 2011 10:47:44
---
... some NYC- Impressions ...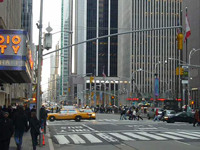 ....spent some time in NYC, i got lots of inspirations and new energy for working on new stuff for the Clemens Hofer Trio...there should be a new CD coming out this year...very exciting, let`s see....;-)))
24 May 2011 10:26:26
---
Clemens Hofer Trio live at the Cafe Publik, St. Pölten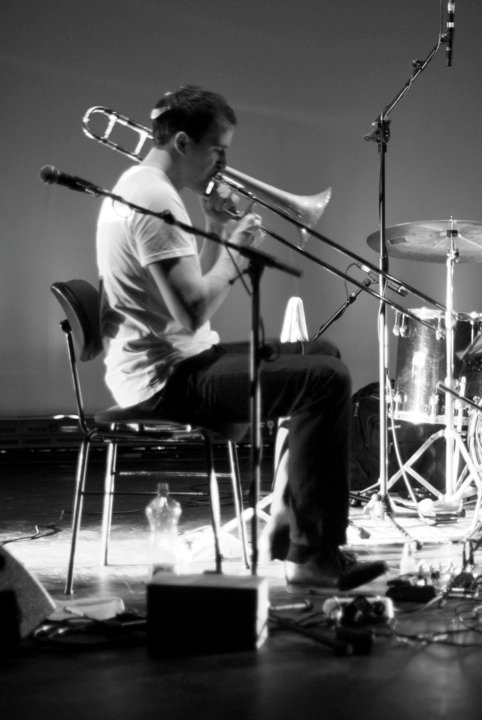 ....
michiru ripplinger
on guitar and
wolfgang kendl
on drums ... very glad , to play my music with this great musicians.... some videos should be also ready for uploading in a few days...i`m working on!!!
photos by
www.taufner-mikulitsch.at
23 Apr 2011 15:56:00
---
GHO Orchestra - `Hermannology`
Brand new CD `Hermannology` by Gerd Hermann Ortler and his GHO Orchestra
Once upon a time I decided to create my own musical world, a world where imagination designs a new reality, without borders. So I squeezed it out of my soul, screened it through my brain, and told my hand to write it down – without any fear. And what's the aim of this music? To beam you up to my planet! You may like it or not, but it shouldn't leave you untouched. Suddenly, after composing, I realized that I couldn't play 22 instruments at the same time. That's why I founded the GHO Orchestra, made up of outstanding musicians who were brave enough to record the "Dark Head Crisis of Dead Virgins" with me on the conductor's stand. And here it is: my world of musical stories…and they listened happily ever after.
Gerd Hermann Ortler
dev.sessionworkrecords.com/hermannology-en/
24 Mar 2011 10:49:08
---
kons.jazzOrchestra feat. Jim McNeely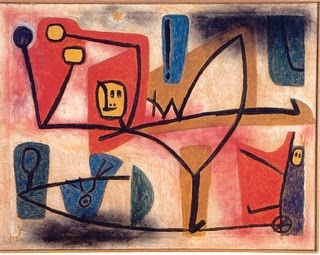 On
17. Dezember 2010
the
Kons.Jazz.Orchestra
plays the music of
Jim McNeely
, which he compose for the Opening of the
Paul Klee
Museum in 2005. He set several of Klee`s paintings into music. Jim McNeely will conduct the Kons.Jazz:Orchestra for this concert in the
Porgy & Bess Jazzclub
in Vienna. Very advisable!!!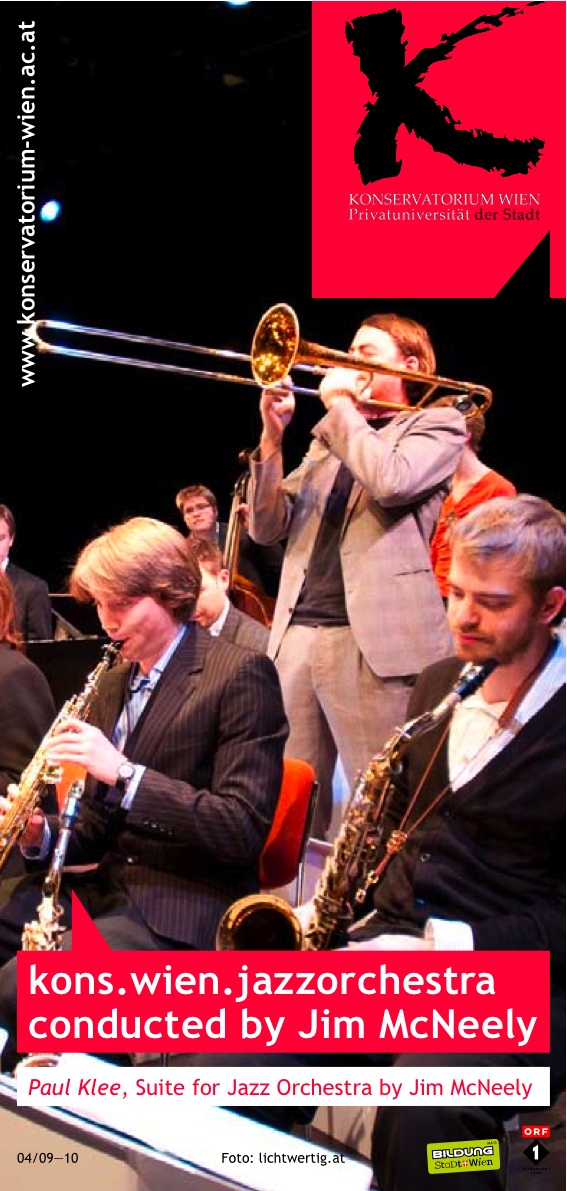 Die Klangfarben der einzelnen Bilder, ob luftig und hell wie in
Der Seiltänzer
, zärtlich versponnen in
Rosenwind
, fröhlich frech in
Übermut
(photo), liebevoll in
Büste eines Kindes
, düster und drückend, dich immer noch Hoffnung vermittelnd in
Tod und Feuer
oder beinahe onomatopoetisch wie im
Paukenspieler
, vermitteln sensible Impressionen der Chiffren Klees.
Heute gehört
Jim McNeely
neben Bob Brookmeyer und Maria Schneider zu den herausragensten Komponisten und Arrangeuren des Jazz.