22 Jan 2019 16:41:08
---
Review Summer 2018
TrioBoot have been invited to the 37. Bayerisches Jazzweekend in Regensburg; it was a fantastic venue there, lots of people, very good sound ... so i was very happy about this gig; the cast of TrioBoot was as always Michiru Ripplinger on guitar and Klemens Marktl on drums ... we had so much fun!!
In August we joined the "Jazz im Hof"- Festival in St. Pölten/Austria. We had the honor to make the whole evening, 2 Sets, so TrioBoot played the first set. It was a great pleasure to play with Harry Tanschek on Drums, it was our first time together, and it will not be the last time ... :-)
For the 2nd set, TrioBoot featured the great Tubaplayer Jon Sass, to play his music! It was big fun for us and the audience ... a very nice experience!!
If you like to capture the mood of this concerts, please visit my YOUTUBE-channel !
22 Jan 2019 15:52:32
---
Review April 2018
CLEMENS HOFER AND ADRIAN MEARS CELEBRATING J. J. JOHNSON
It was a very special evening .... together with one of the best Jazz Trombone Player on this planet, Mr. Adrian Mears, celebrating the music of the great J.J..Johnson with an outstanding Double-Trombone Quintet, accompanied by Oliver Kent (piano), Milan Nikolic (bass) and Klemens Marktl (drums) .... and it happened in the most beautiful Bar in Vienna !!! ... what a pleasure ...
22 Jan 2019 15:02:03
---
Review March 2018
In March 2018, i visit, together with my Daughter, the Cities of Sao Paulo and Rio de Janeiro/ Brazil! We had a wonderful time there together with my friend and principal trumpet of the Jazzsymphonia Sao Paulo Mr. Junior Galante.
I played some gigs with the Jazztrio of Thiago Alves (Bass), Paulinho Vicente (drums) and Felipe Silveira (piano) ... it was a big pleasure, to play with this fantastic guys!!
At Souza Lima Conservatorio in Sao Paulo i was allowed to give a masterclass for the students there, especially for the trombone class of the master himself, Jorginho Neto!
Big Thank for all this wonderful moments in Brazil!
.... The Master Jorginho Neto (2nd from left) and the Band of the Masterclass; .... i can not remember any more the names of the musicians ... sorry for that !!!
.... after the Final Jam .... the fantastic Trombone Class of Mr. Jorginho Neto at Souza Lima Conservatorio, Sao Paulo !
10 Dec 2017 18:17:29
---
.... since October 2017 Clemens Hofer teaches at Jam Music Lab University in Vienna, Austria
10 Mar 2017 12:35:59
---
Konzertankündigung TrioBoot in der Tischlerei in Melk
Posaunist Clemens Hofer und seine kongenialen Kollegen Michiru Ripplinger und Wolfgang Kendl verfolgen einen sehr eigenständigen Jazzsound, einen, der auf mitreißende Art eine große Liebe sowohl für weite Melodiebögen wie auch für alle möglichen freien Formen dieses Stils erkennen lässt. Jeder der drei hochtalentierten Musiker ist ein Meister seines Faches. Absolut empfehlenswert!!!

Posted by Clemens Hofer on Freitag, 10. März 2017
9 Aug 2016 11:27:51
---
Interview im Sonic, Ausgabe Mai/Juni 2016
Danke an Hans-Dieter Gründefeld und SONIC für den gelungenen Artikel in der Mai/ Juni- Ausgabe!
Wer es nicht schon gelesen hat, kann es hier tun:
SONIC
18 Mar 2016 12:57:52
---
MUSIKMAGAZIN – NEUES VOM ÖSTERREICHISCHEN MUSIKGESCHEHEN
Danke Michael Ternai, für die schöne CD- Besprechung zum Album "Comfort Zone" für die MICA - Music Austria!
mica
weitere Album- Rezensionen im Menüpunkt "Disco"
5 Oct 2015 10:22:45
---
TrioBoot bei den Shortcuts im Stockwerk/ Graz
27 Aug 2015 10:30:03
---
NEW album out now ...
Hello my Friends!
After a long working period our new album "COMFORT ZONE" is released on Jive Music!
24 May 2011 10:47:44
---
... some NYC- Impressions ...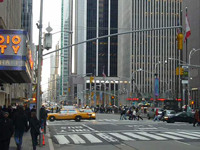 ....spent some time in NYC, i got lots of inspirations and new energy for working on new stuff for the Clemens Hofer Trio...there should be a new CD coming out this year...very exciting, let`s see....;-)))